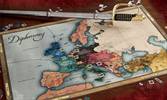 The five points for the oral exam have been posted in the folder ORAL TEST 2010-2011.
The files will be posted shortly.
On Thursday, April 28, and on Friday, April 29, Prof. Cinzia Spinzi will hold a two-day seminar titled: Intercultural Communication and British Diplomacy (point 2 of the oral exam).